Prior to the recent bear market, it had become a cottage industry for writers in the financial press to call for the next great short squeeze. Perhaps, like tornado chasers in the plains of the Midwest, the thrill of the hunt combined with the inherent danger are the appeal. That said, there is an art to this game and you have to be highly selective on the recognition of a good setup. It is much harder to identify a good short squeeze setup than you might think. Moreover, the timing is always of the essence and starting valuation as well as a thorough understanding of the risk / reward are paramount.
As someone that has selectively identified and participated in a few of them, I too love a good short squeeze. That said, again, I can't express enough just how hard it is to do it.
Today, I write to share what looks like a great setup for a very good short squeeze. The company is Citi Trends, Inc. (NASDAQ: CTRN). As of February 28, 2022, 36% of CTRN's float has been sold short, the company reported revenue and EPS record results in FY 2021, and this week, CTRN provided very solid FY 2022 EPS guidance, despite lapping record fiscal stimulus, as well as facing the persistent headwinds consisting of higher gas prices, the highest inflation in 40 years, and higher supply chain costs.
It is my understanding that Citi Trends' CEO, David Makuen, was handpicked by activist, Jon Duskin. If Jon's name sounds familiar, it is because he is leading the activist campaign at Kohl's (KSS).
Utilizing robust cash flow from operations, in FY 2021, CTRN bought back $ 115 million worth of stock, retiring 1.37 million shares at an average price of roughly $ 84 per share. For its Q4 FY 2021 conference call, its buyback authorization was upped to $ 60 million, from $ 30 million. In addition, management cited that they have a deal in principle to execute a $ 45 million sale-leaseback at its Darlington, South Carolina distribution center. Also, they are considering another $ 35 million sale-leaseback at its Roland, Oklahoma center.
With $ 50 million of cash on its December 31, 2021 balance sheet, a solid outlook for FY 2022, and the possibility of a fresh infusion of cash, from either one or two sale-leaseback transactions, I don't think it takes a rocket scientist to anticipate / hypothesize that management will aggressively buyback its stock in the $ 30s, or low $ 40s, utilizing its full $ 60 million authorization, in FY 2022. And let's face it, of course depending on the trajectory of its stock price and finalization of the sale-leaseback, whether it is one or two, it very possible that the buyback authorization might be upped.
With Citi Trends shares down roughly 63%, from the start of the year, I don't have a clue why the shorts are still short this stock. Arguably, the shorts got very lucky as the tragic events taking place in Ukraine, led to both a big spike in gas prices and souring consumer sentiment, at least in the near term.
It seems kind of crazy to be short a stock, trading at about 8X FY 2022 EPS guidance (mid-point), that has no net financial debt, and that very healthy buyback program in place. Again, if management thought using $ 115 million to retire 1.37 million shares, at $ 84 per share, made sense, there is no reason to think they won't be aggressive buyers of CTRN shares in the $ 30s and low $ 40s.
Speaking of short squeezes, my regular readers might be aware, I wrote this article about GameStop (GME), way back in April 2020.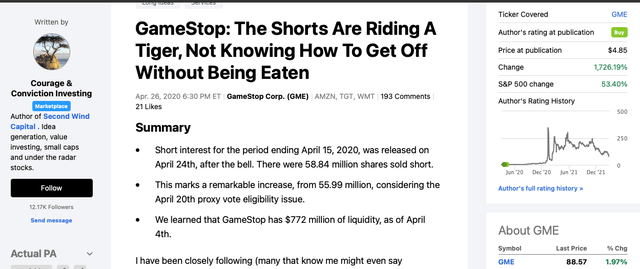 (Source: Seeking Alpha)
More recently, and the last time I wrote about a short squeeze was when I wrote up Big 5 Sporting Goods (BGFV).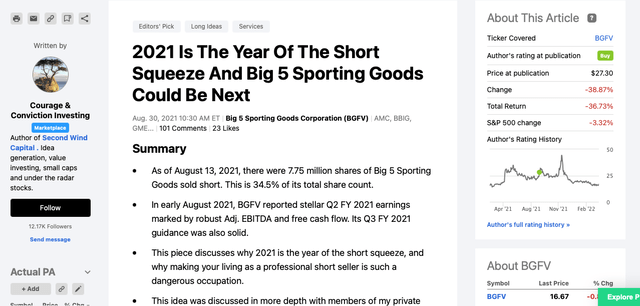 (Source: Seeking Alpha)
Lo and behold, BGFV shares were trading at roughly $ 25 per share, at the then time of publication, back on August 30, 2021, at 10:30 am. They briefly spiked to as high as $ 35.45 (September 2, 2021) and hit an all time high of $ 47.65 (November 12, 2021), excluding regular dividends and a $ 1 special dividend.
As for Citi Trends, here are some additional details, as I covered the setup in the earlier section of this write up.
The Citi Trends Short Squeeze Setup
This is a very straightforward write up and thesis. In December 2020, Citi Trends hired a really sharp CEO, David Makuen, and lo and behold, the company posted fantastic and record revenue and EPS. FY 2021 EPS was $ 6.91 per diluted share compared to $ 1.41 in 2019 (See Exhibit A). No question, three rounds of stimulus and pent up demand due to Covid were big tailwinds. Entering FY 2022, the stimulus payments are gone, inflation is the highest in 40 years, and gas prices recently hit record nominal highs (although oil prices peaked at $ 130 per barrel and is currently trading around $ 100).
That said, with CTRN shares down roughly 63% since the start of the year (see Exhibit B), so I would argue that a lot of fear is priced in here. Moreover, earlier in the week, Citi Trends' management provided FY 2022 guidance, calling for EPS to range from $ 4.05 to $ 4.60 per share.
No question, as feared, Q1 FY 2022 guidance was really weak, at only $ 0.15 to $ 0.40 per share and sales are projected to be down 25% to 30% (they were lapping a + 39% comps to FY 2019). That said, weak Q1 FY 2022 guidance should now be fully incorporated into the stock price. Looking forward, as management stated on the call, the comparisons get easier starting in Q2 FY 2022 and moving through the remainder of the year. Q2 – Q4 FY 2022 revenue guidance is based on low to mid single digits growth.
And then it gets – I won't say easier, but it gets a lot lower in Q2 through Q4. And then importantly, I want to make sure that you hear this point, many of our initiatives to impact 2022 begin to go live in Q2. We've got a couple of cooking in Q1, but they really start to pump in Q2 and forward. For example, that's when our Missy assortment starts to take hold. That's when our multicultural assortment to capture, for example, more Latinx market share starts to pop into stores. That's when we start to work and show up with a better dress assortment, which is a significant volume opportunity.

And then most importantly, our remodel starts kicking in. We're going to do almost half, if not more, of the 50 remodels by the end of Q2. So they provide some really nice comp benefit for the rest of the year. And then obviously, on the total top line, building our new stores will start to kick in, and we think we'll build just – of half of those by the end of Q2 as well. So lots of moving good parts coming for the Citi Trends business. Pam, do you want to comment on our pricing?

(Source: Q4 FY 2021 Conference Call)
Valuation And The Balance Sheet
Citi Trends generated meaningful cash flow in FY 2021 and they used a lot of it to buyback a lot of stock. That said, with the benefit of hindsight, they overpaid, paying an average of $ 84.16 per share to retire 1.37 million shares.
In the fourth quarter of 2021, the Company repurchased approximately 95,000 shares of its common stock at an aggregate cost of $ 8.1 million. For fiscal 2021, the Company repurchased approximately 1,370,000 shares of its common stock at an aggregate cost of $ 115.3 million.
CTRN's share count is now 8.6 million shares. With shares currently trading around $ 35 per share x 8.6 million shares, we are talking about a market capitalization of only $ 301 million. As of December 31, 2021, CTRN had $ 49.8 million in cash (see Exhibit E).
Per the Q4 FY 2021 conference call, management upped its buyback authorization to $ 60 million, from the $ 30 million that was remaining. Given the cash on hand, solid FY 2022 EPS guidance, and prospect of at least one sale-leaseback, possibly two, I would be shocked if the entire authorization wasn't exercised (and most likely increased) by the end of FY 2022.
So applying $ 60 million to an average share price of $ 45 per share, that would retire another 1.333 million shares. Let's be super conservative here and say only one million shares get retired. That would drop the share count to 7.6 million and remember FY 2022 EPS guidance doesn't include any buybacks.
In other words, if you take the mid-point of FY 2022 EPS guidance ($ 4.325 per share) and multiply by the existing share count (8.6 million) then you get implied net income of $ 37 million. If they execute the buyback then pro-forma FY 2022 EPS moves from $ 4.325 to at least $ 4.87 per share. This translates to CTRN shares only trading at roughly 7X pro-forma FY 2022 EPS guidance, inclusive of the full $ 60 million buyback program. And let's not forget, this is a company that has plenty of growth ahead and no net debt.
Sale-Leaseback – Most Likely $ 45 million, but could be up to $ 80 million
The Company underwent a comprehensive evaluation of its owned real estate. As a result, the Company has entered into an agreement to execute a sale-leaseback of its distribution center located in Darlington, SC for a purchase price of approximately $ 45 million, subject to due diligence and other customary closing conditions. In addition, the Company retained an option to enter into a similar sale-leaseback for its distribution center located in Roland, OK for a purchase price of approximately $ 35 million pending the result by the Company of a network optimization study. The Company intends to use the net proceeds from these transactions to provide additional liquidity and for other corporate purposes, including share repurchases as determined by the Company's board of directors. In connection with these sale-leaseback transactions, the Company's board of directors today announced the authorization of an additional $ 30.0 million for share repurchases.
(Source: Citi Trends Q4 FY 2021 Earnings Report)
Putting It All Together
This is a very simple short squeeze, so I kept the write up very straightforward. That said, just to be clear, I did read the transcripts from the recent conference calls and this is very much a growth business. Management thinks they can grow this business and its store count from the low 600s to upwards of 1,000 stores.
Moreover, if you closely read the Q4 conference call, new store concepts are working and there is plenty of low hanging fruit and investment that hadn't been made in 10 years, notably an analytics system.
Lastly, we are in the process of completing an upgrade of our buying, planning and allocation systems, something we haven't done in a decade. With rich analytics and easy-to-use tools, this system will really advance our capabilities, target-specific products to specific store clusters and customers. We can't wait.
(Source: CTRN Q4 FY 2021 conference call)
So if you take a step back, CTRN shares are down roughly 63% year to date. We now have guidance and the market was correct that Q1 FY 2022 would be weak, but commentary surrounding FY 2022 is solid as they are lapping easier comparisons, during Q2 FY 2022 -Q4 FY 2022. With 36% of CTRN's float sold short, I would argue the short sellers have over stayed their welcome here and shares have overshot to the downside. Citi Trends buyback authorization is $ 60 million (and could grow), which is 20% of its current market capitalization. The stock is only trading at 7X or 8X this year's pro-forma EPS and there is the possibility of $ 45 million to $ 80 million of new capital could be utilized to buyback more shares.
My conservative price target is $ 45 to $ 60 per share
Appendix
Exhibit A – Financial Results (FY 2019 – FY 2021)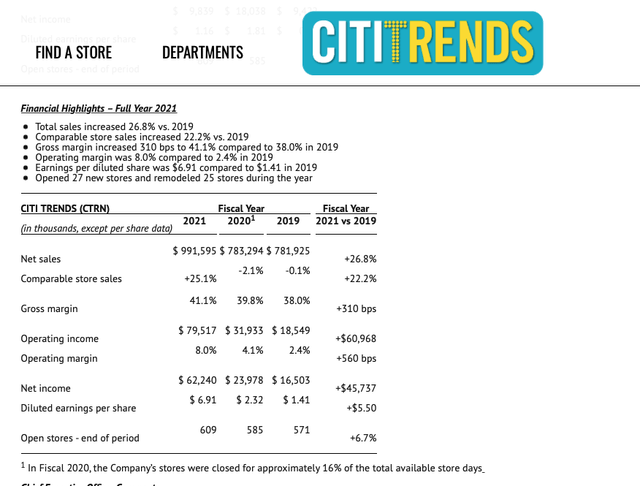 Exhibit B – Citi Trends Share Price Performance
Citi Trends shares hit an all time high of $ 111.44 (April 26, 2021) and ended December 31, 2022 at $ 94.75 per share. Therefore, though yesterday, CTRN shares are down 69% from their all time highs and 63% YTD.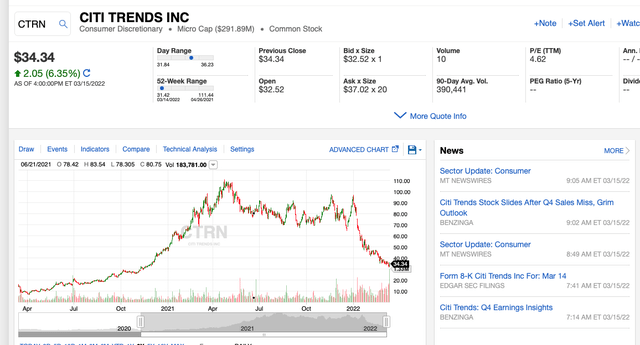 Exhibit C – FY 2022 Guidance

Exhibit D- Short Interest
36% Sold Short, as of February 28, 2022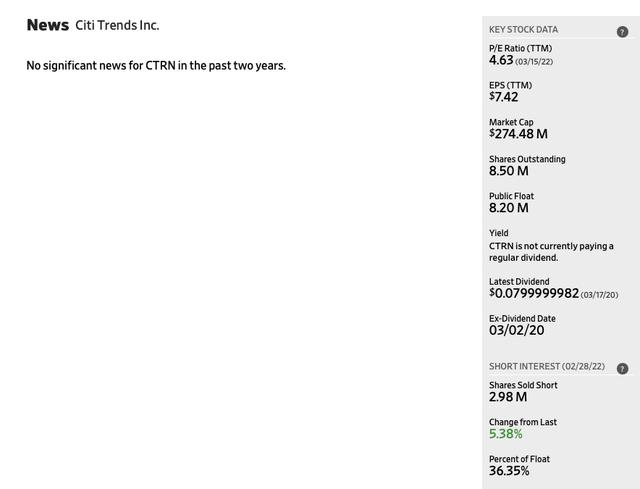 Exhibit E – Citi Trends' Balance Sheet (12/31/2021)