There's nothing quite like a bit of mystery and intrigue, is there? And Ferrari knows how to create that with its high-functioning PR machine in full swing, posting a head-on shot of the 2022 Ferrari Purosangue – the first SUV in the company's history, of course. The image appeared on its Instagram feed, accompanied by the caption "You've heard the rumors … and we're delighted to confirm they're true (some of them). All will be revealed later this year. #Ferrari. "
The teaser, as you can see, shows a single recessed upper blade supporting the headlights at either edge, with a large, full-width cooling grille underneath. The upper surface of the bonnet is heavily sculpted, and with the power dome rising fully towards the midpoint of the bonnet's length, this seems to confirm what we thought: that the new SUV will have a front-mid-engined layout based on one of the company's two scalable architectures – the other being for its mid-engined sportscars, including the recently launched 296 GTB. Speaking of the 296 GTB, we know that its 2.9-liter V6 turbocharged hybrid is likely to feature here, as well as a version of the V8 hybrid from the SF90. And with Ferrari committing to developing the V12 for the foreseeable, a V12 Purosangue is plausible, too.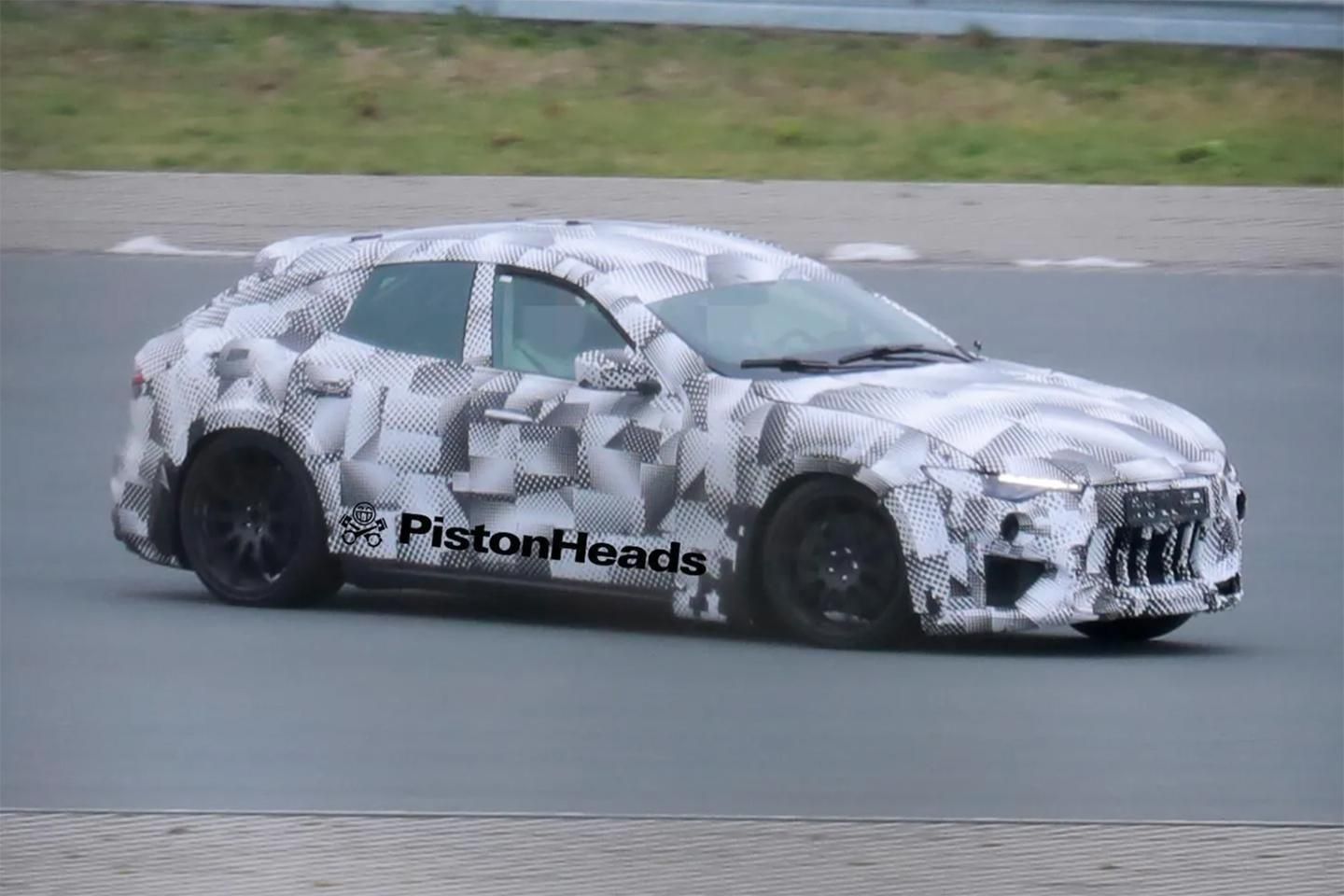 These aren't the first images of the car we've seen – there have been spy shots of the cut-and-shut Maserati Levante that was seen testing – but it is the first official image of an undisguised Purosangue. And there was also a leaked picture of a car on its production line that tallies perfectly with what's been shown today. That revealed a car with a full clamshell bonnet and scalloped sides, with the bottom of the doors curving heavily at their lower edge, where it meets a flared, black sill finisher. In typical SUV fashion, it also has a black wheelarch surrounds.
One thing looks certain, though: this isn't going to be as high-riding as SUV rivals including the Aston Martin DBX, Bentley Bentayga or Lamborghini Urus. It looks much more likely to be a taller sport brake, which makes sense if Ferrari are to connect with its core dynamic requirements. It has to somehow manage that without devaluing the brand, in a move that is still seen by many as controversial. However, anyone with a less purist bent might be inclined to point out that SUVs are a proven money spinner, and it's better to be in than out. After all, adding SUVs to its lineup, not to mentiona a full BEV – something that is also on the cards for the Purosangue – hasn't done Porsche too much harm, has it …